So, I have a confession to make. I think I am in love. Like, head over heals, "hearts in the eyes" kind of love. I know you know what I am talking about - we've all been there at one time or another. And if you've seen the new "Hello" collection from Doodlebug, you will also know the subject of my new affection.
I mean, come on! It doesn't get any better than this new collection (well, until Cynthea and her team come up with their next collection). The colours take your breath away, the patterns make you swoon and the icons cover just about any theme that you can imagine. I might just have bought another set of this collection already and I will be stocking up on the Hello Cut File collection when they hit the
Lori Whitlock store
on Tuesday, 8th May!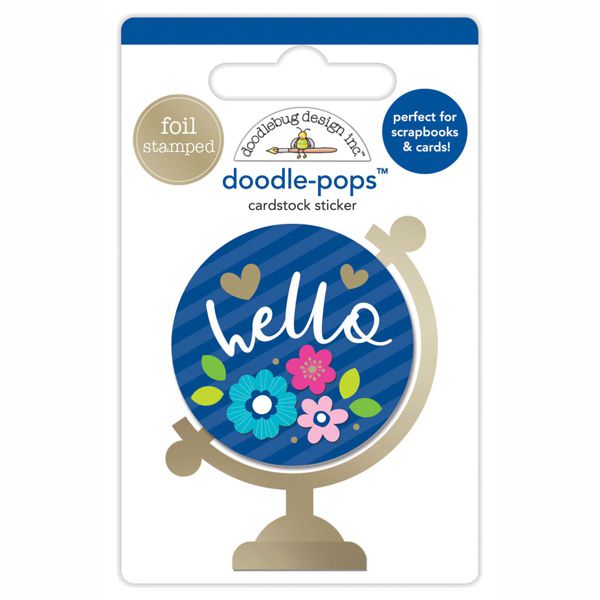 I was actually inspired in two ways for today's projects. The first was with the little globe icon Doodle-pop (you can actually find this icon on the papers and in the Odds and Ends too). I wondered if it would be possible to bring it to life in a 3D version.
With the help of the Odds and Ends diecuts, this altered globe was no problem! By adding some
Sugar Coating glitter
and a few
Glitter Sprinkles,
this globe is going to find a happy place on a shelf in my home and will make me do exactly what it says - SMILE!
The other part of this collection that I found particularly inspiring was the
This and That Sticker sheet. A
couple of weeks ago, I came across a quote at a professional development day activity that I liked so much that I wrote down. Imagine my surprise when I opened up my paper pack only to find it on the sticker sheet. So I grabbed the
Hello assortment Cards and Envelopes
and got to work. This little duo of cards was pulled together in no time flat - the only question is - what kind of reason can I find to gift these cads to myself?!
So, this is just the start of my new love affair. In fact, I already have two more projects on the crafty table in the works with this collection. And while everyday might not be good, this collection is - every single part of it! Yup - it's love!
Thanks for stopping by! Hugs,
Karen